Open Access
Subscription Access
3,5-[5-ARYLISOXAZOL-3-YL(4,5-DICHLOROISOTHIAZOL-3-YL)]-SUBSTITUTED 1,2,4- AND 1,3,4-OXADIAZOLES: SYNTHESIS, PALLADIUM COMPLEXES, AND CATALYSIS OF SUZUKI REACTIONS IN AQUEOUS MEDIA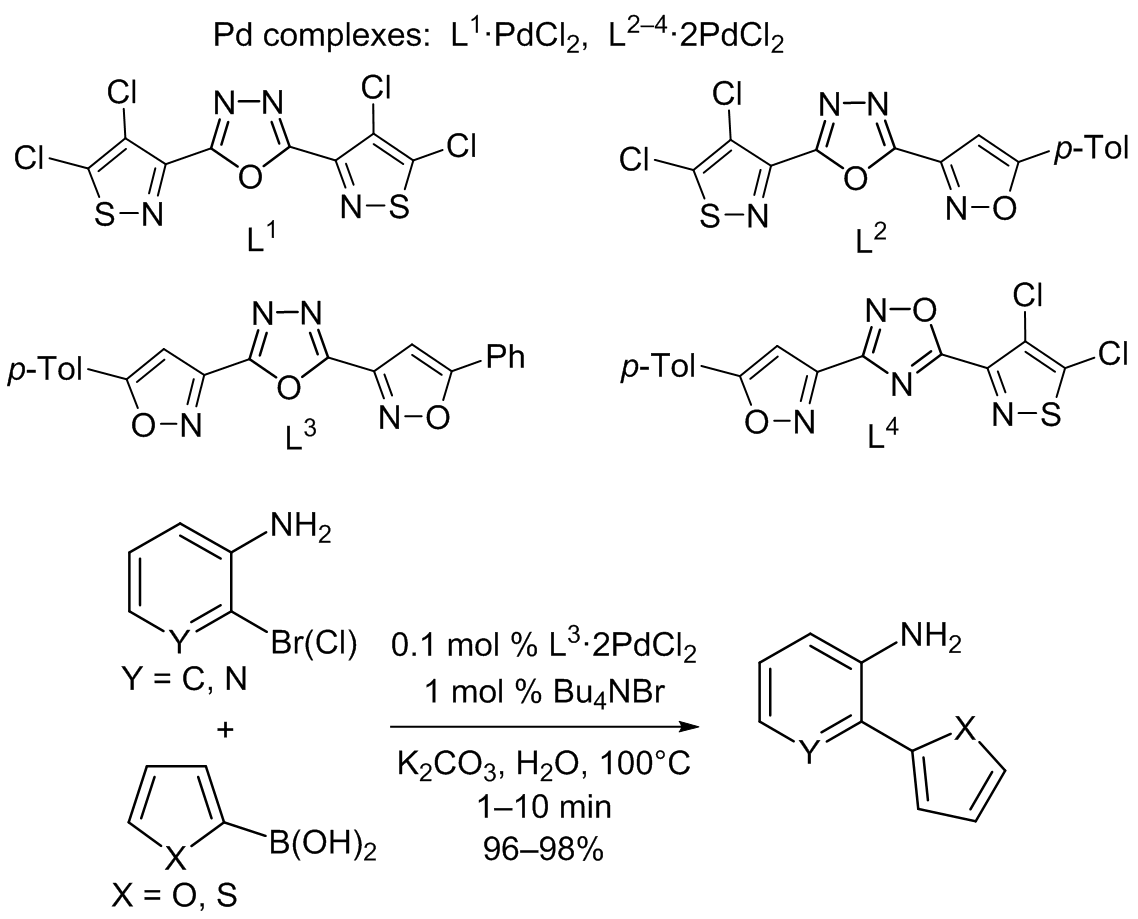 Abstract
A reaction sequence involving transformations of 5-(4-methylphenyl)isoxazole and 4,5-dichloroisothiazole derivatives containing an
amidoxime group at position 3 allowed to synthesize the respective 3,5-isoxazolyl(isothiazolyl)-substituted 1,2,4-oxadiazoles. Selective
recyclization of 4,5-dichloro-3-(1Н-tetrazol-5-yl)isothiazole and 5-(4-methylphenyl)-3-(1Н-tetrazol-5-yl)isoxazole gave 2,5-isoxazolyl-
(isothiazolyl)-substituted 1,3,4-oxadiazoles. The obtained compounds combining three azole heterocycles in one molecule formed
palladium complexes that showed high catalytic activity in Suzuki reactions in aqueous and aqueous alcohol media. The bimetallic
reusable Pd/Fe catalyst obtained from palladium polyazole complex retained high catalytic activity after five uses.
Keywords
isoxazoles, isothiazoles, 1,2,4-oxadiazoles, 1,3,4-oxadiazoles, palladium complexes, heterocyclization, heterogeneous catalysis, homogeneous catalysis, magnetic Pd/Fe catalyst, Suzuki reaction.
Full Text:
PDF (Russian)

Supplementary File(s):
None
Latvian Institute of Organic Synthesis - Aizkraukles iela, 21, Riga, LV-1006, Latvia - hgs@osi.lv