Open Access
Subscription Access
MUTUAL KINETIC RESOLUTION OF 3-METHYL-3,4-DIHYDRO-2H-1,4-BENZOXAZINES AND 2-ALKOXYACYL CHLORIDES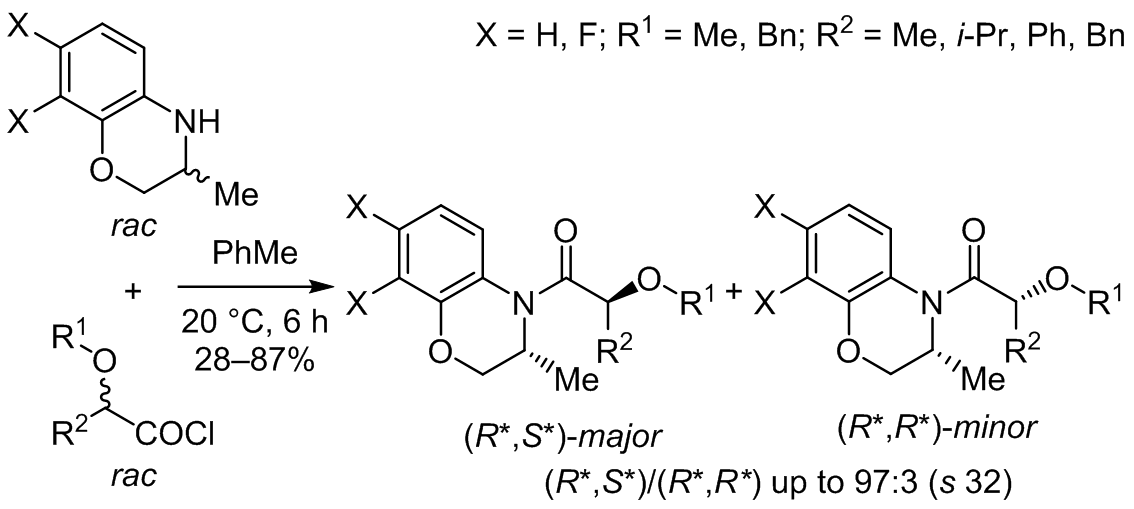 Abstract
Stereoselective acylation of racemic 3-methyl-3,4-dihydro-2Н-1,4-benzoxazine and its 7,8-difluoro-substituted analog with racemic
2-alkoxyacyl chlorides was stidied. The reactions of 3-methyl-3,4-dihydro-2H-1,4-benzoxazines with 2-methoxyisopentanoyl chloride
were found to be more selective (selectivity factor s 31–32) compared to the acylation with other studied propanoyl chlorides (s 18–21).
This fact was probably caused by the significant steric hindrance due to the isopropyl substituent in acyl chloride compared to the methyl
group in reagents derived from propanoic acid.
Keywords
acyl chlorides, 2-alkoxycarboxylic acids, heterocyclic amines, acylation, kinetic resolution, stereoselectivity.
Full Text:
PDF (Russian)

Supplementary File(s):
None
Latvian Institute of Organic Synthesis - Aizkraukles iela, 21, Riga, LV-1006, Latvia - hgs@osi.lv