Open Access
Subscription Access
SYNTHESIS AND PROPERTIES OF 5-ARYL-3-DIAZO-3H-PYRAZOLES AND 3-ARYL-1H-PYRAZOLE-5-DIAZONIUM SALTS. PREPARATION AND CYTOLYTIC ACTIVITY STUDIES OF 2-ARYLPYRAZOLO- [5,1-c][1,2,4]BENZOTRIAZINES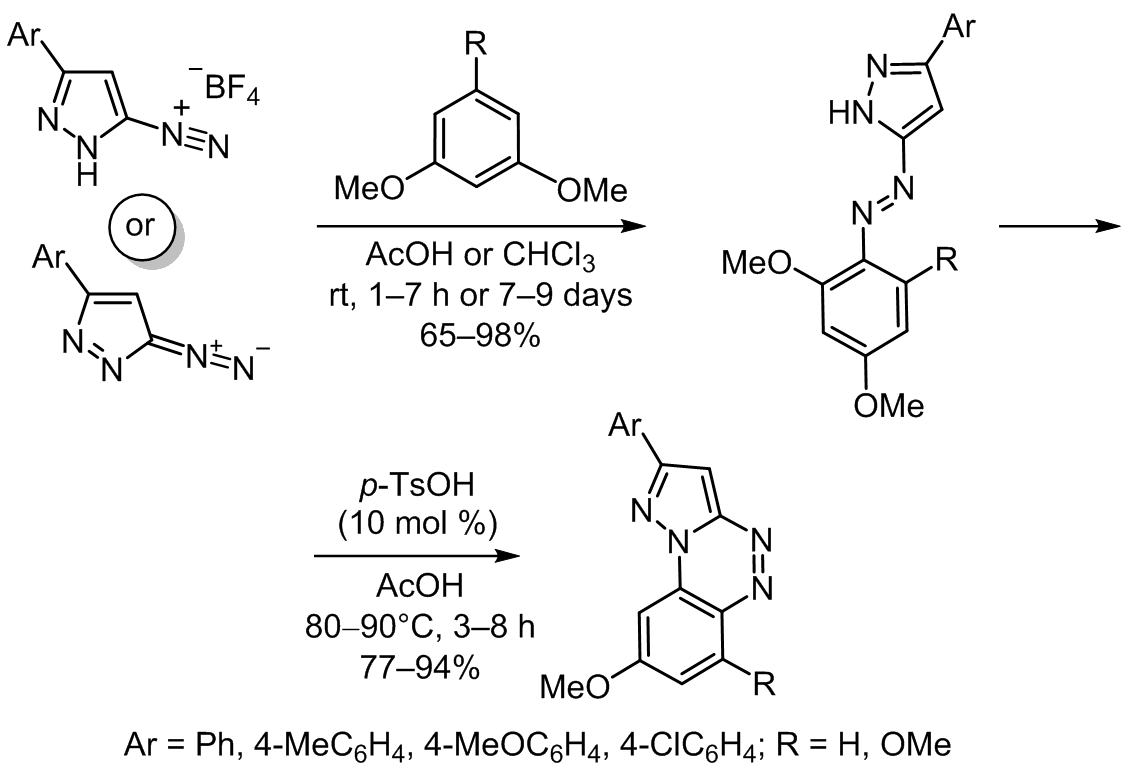 Abstract
A comparative analysis of physicochemical properties and reactivity of 3-aryl-1H-pyrazole-5-diazonium tetrafluoroborates and 5-aryl-3-diazo-3H-pyrazoles in azo coupling reactions is presented. It is shown that diazonium salts have higher reactivity compared to the respective 3-diazopyrazoles, which is in agreement with their physicochemical properties. Heterocyclization of the synthesized azo compounds provided 2-arylpyrazolo[5,1-c][1,2,4]benzotriazines, which were screened for antitumor activity against human uterine endothelium cancer cells (HeLa cell line) and human skin fibroblasts using the MTT assay and flow cytometry. It was found that all of
the tested compounds exhibited moderate to high cytotoxic activity. The best results were obtained with 6,8-dimethoxy-2-phenylpyrazolo-[5,1-c][1,2,4]benzotriazine.
Keywords
2-arylpyrazolo[5,1-c][1,2,4]benzotriazines, 3-diazopyrazoles, pyrazole-5-diazonium salts, antitumor activity, azo coupling, diazotation, heterocyclization.
Full Text:
PDF (Russian)

Supplementary File(s):
supplementary info (3MB)
Latvian Institute of Organic Synthesis - Aizkraukles iela, 21, Riga, LV-1006, Latvia - hgs@osi.lv