Open Access
Subscription Access
SYNTHESIS AND EVALUATION OF BIOLOGICAL ACTIVITY OF HOMODRIMANE SESQUITERPENOIDS BEARING HYDRAZINECARBOTHIOAMIDE OR 1,2,4-TRIAZOLE UNIT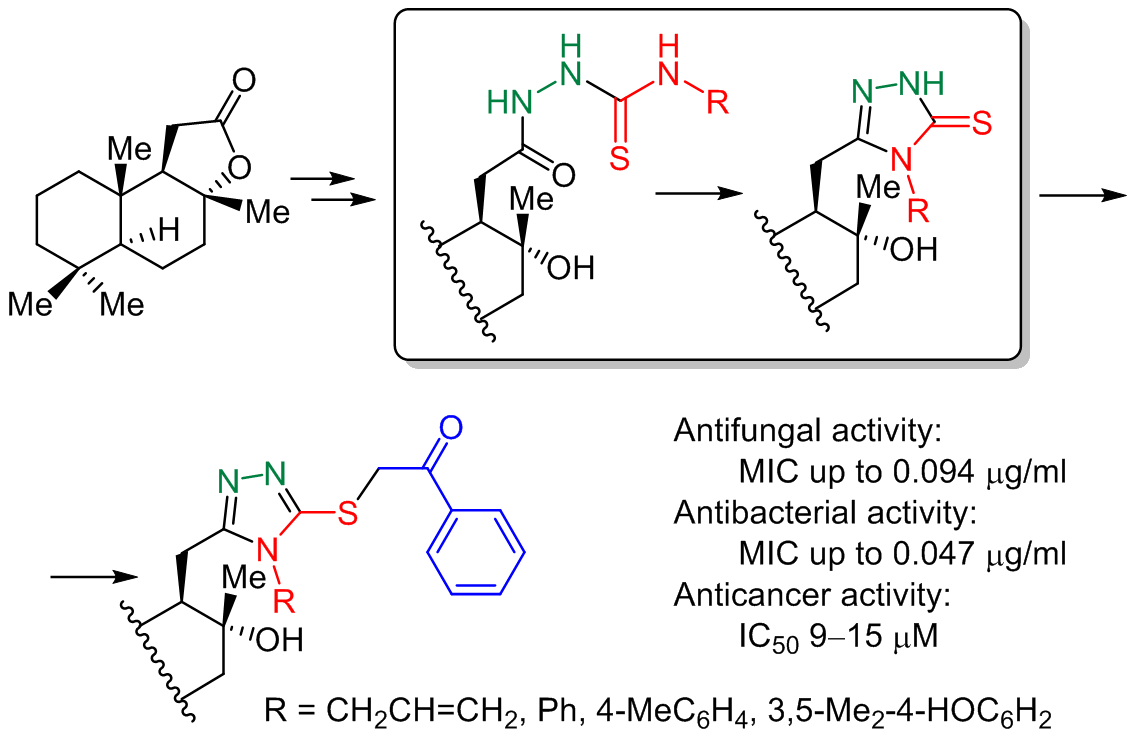 Abstract
Synthesis of novel (+)-sclareolide-based homodrimane sesquiterpenoids bearing hydrazinecarbothioamide or N-substituted 1,2,4-triazole unit has been reported. These heterocyclic compounds demonstrate promising in vitro antifungal and antibacterial activities toward fungal species Aspergillus niger, Fusarium solani, Penicillium chrysogenum, Penicillium frequentans, and Alternaria alternata and bacteria
strains Bacillus sp. and Pseudomonas aeruginosa at minimum inhibitory concentration level of μg/ml. In addition, two homodrimane sesquiterpenoids with hydrazinecarbothioamide fragment show cytotoxicity toward human ovarian carcinoma cells A2780 and A2780cis with half maximal inhibitory concentration values in range of 9–15 μM.
Keywords
homodrimane sesquiterpenoid, hydrazinecarbothioamide; 1,2,4-triazole, antibacterial activity; anticancer activity; antifungal activity; microwave irradiation.
Full Text:
PDF
Supplementary File(s):
supplementary info (6MB)
Latvian Institute of Organic Synthesis - Aizkraukles iela, 21, Riga, LV-1006, Latvia - hgs@osi.lv