Open Access
Subscription Access
SYNTHESIS AND STRUCTURE OF NOVEL Si-SUBSTITUTED SILYLPROPYL DERIVATIVES OF 2-MERCAPTOBENZOXAZOLE AND 2-MERCAPTOBENZOTHIAZOLE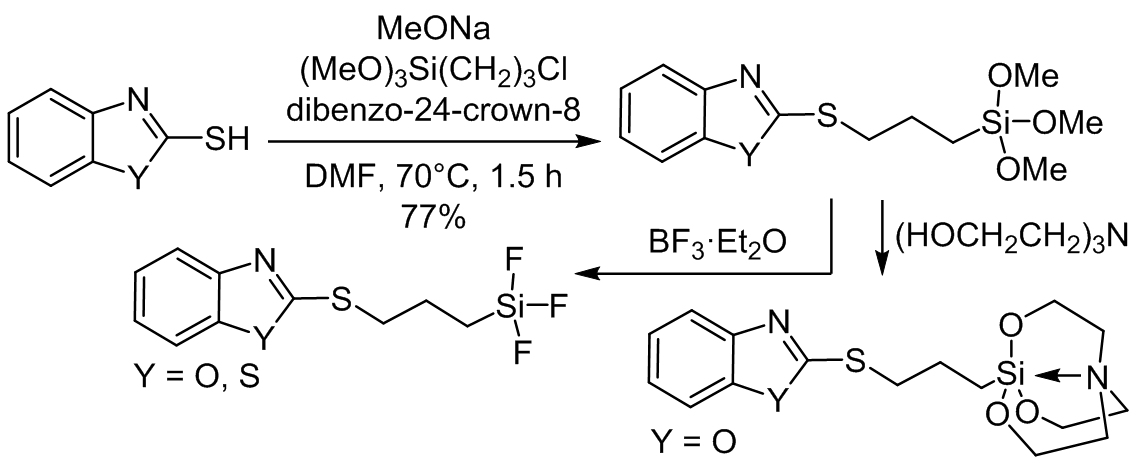 Abstract
A previously unknown carbofunctional (trimethoxysilyl)propyl derivative of the 2-mercaptobenzoxazole, C6H4NOCS(CH2)3Si(OMe)3, containing a tetracoordinated silicon atom was synthesized by nucleophilic substitution of the chlorine atom in the (3-chloropropyl)trimethoxysilane with the benzoxazol-2-ylsulfanyl group. The reaction of 2-[(trimethoxysilyl)propylsulfanyl]benzoxazole or -benzothiazole with boron trifluoride etherate led to a previously unknown hydrolytically unstable Si-fluoropropyl derivatives of 2-mercaptobenzoxazole or 2-mercaptobenzothiazole,  C6H4N(Y)CS(CH2)3SiF3 (Y = O, S). By transesterification of 2-[(trimethoxysilyl)-
propylsulfanyl]benzoxazole by tris(2-hydroxyethyl)amine, a new silatranylpropyl derivative of 2-mercaptobenzoxazole containing an intramolecular coordination bond N→Si and a pentacoordinated silicon atom, C6H4NOCS(CH2)3Si(OCH2CH2)3N, was obtained.
Keywords
(3-chloropropyl)trimethoxysilane; 2-mercaptobenzoxazole; 2-mercaptobenzotriazole; silatrane; trifluorosilane.
Full Text:
PDF (Russian)

Supplementary File(s):
None
Latvian Institute of Organic Synthesis - Aizkraukles iela, 21, Riga, LV-1006, Latvia - hgs@osi.lv