Open Access
Subscription Access
NUCLEOPHILIC SUBSTITUTION OF A 4-DIMETHYLAMINO GROUP IN QUINOLINE PROTON SPONGES. STABILIZATION OF 4-QUINOLONES IN HYDROXY FORM. SYNTHESIS OF A PROTON SPONGE BASED ON 8-HYDROXYQUINOLINE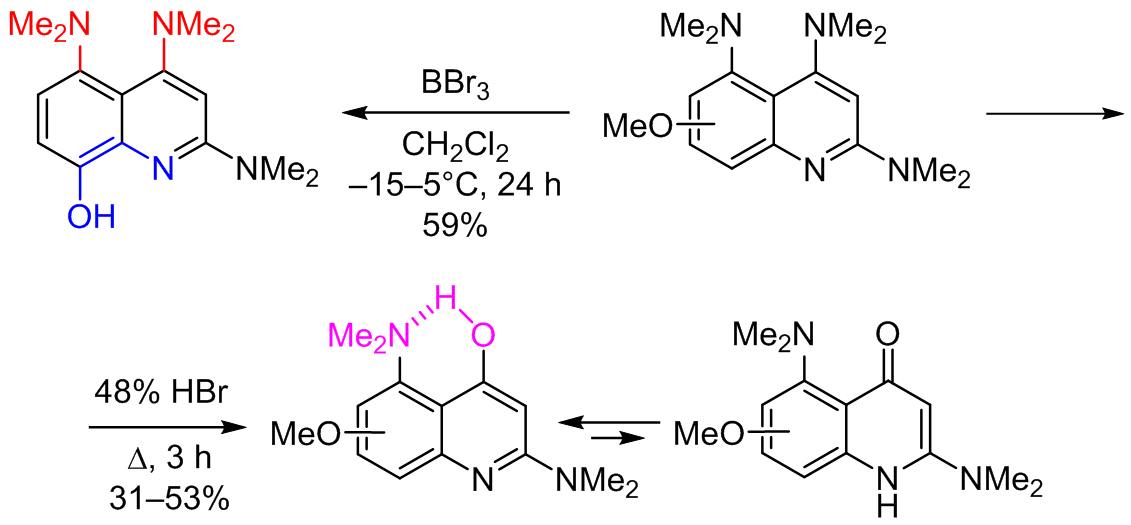 Abstract
Demethylation of methoxy groups in 6(8)-methoxy-2,4,5-tris(dimethylamino)quinolines with 48% HBr leads to nucleophilic substitution
of the 4-NMe2 group with the formation of quinolones existing in solution and the solid state in the hydroxy form stabilized by intramolecular hydrogen bonding. Unlike HBr, the use of BBr3 in the case of the 8-methoxy derivative leads to the formation of 8-hydroxy-2,4,5-tris(dimethylamino)quinoline, a promising ligand for binding of both protic and Lewis acids.
Keywords
dimethylaminoquinolines; hydroxyquinolines; methoxyquinolines; quinolones; hydrogen bonding; nucleophilic substitution; proton sponges; tautomerism.
Full Text:
PDF (Russian)

Supplementary File(s):
supplementary info (3MB)
Latvian Institute of Organic Synthesis - Aizkraukles iela, 21, Riga, LV-1006, Latvia - hgs@osi.lv