Open Access
Subscription Access
SYNTHESIS OF BIOLOGICALLY ACTIVE 6-(TOLYLHYDRAZINYLIDENE)PYRAZOLO[1,5-a]PYRIMIDINONES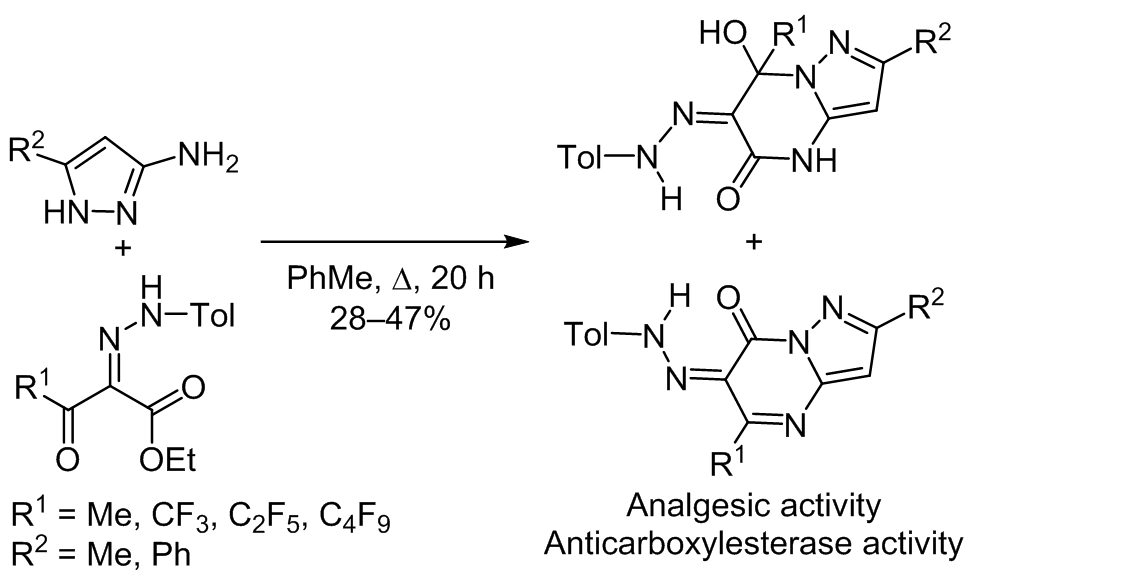 Abstract
New pyrazolo[1,5-a]pyrimidinones functionalized with the tolylhydrazone fragment were obtained as a result of cyclization of 3-oxo-
2-(tolylhydrazinylidene) esters with 3-aminopyrazoles. In this case, methyl- and trifluoromethyl-containing derivatives regioselectively
form pyrazolo[1,5-a]pyrimidin-7-ones, while cyclization of polyfluoroalkyl-substituted analogs can take place competitively with the formation of dihydropyrazolo[1,5-a]pyrimidin-5-ones, for which ring-chain isomerism is characteristic in solution. It was found that 6-(tolylhydrazinylidene)pyrazolo[1,5-a]pyrimidin-7-ones have a pronounced analgesic activity. The trifluoromethyl-containing analog
selectively inhibits carboxylesterase in micromolar concentration.
Authors: Olga P. Krasnykh, Vera V. Maslova, Galina A. Triandafilova, Sergey Yu. Solodnikov, Galina F. Makhaeva, Olga G. Serebryakova, Elena V. Rudakova, Victor I. Saloutin*
Keywords
pyrazolo[1,5-a]pyrimidinones; acute toxicity; analgesic activity; anticarboxylesterase activity; antiradical activity; ring-chain isomerism; regioisomers
Full Text:
PDF (Russian)

Supplementary File(s):
None
Latvian Institute of Organic Synthesis - Aizkraukles iela, 21, Riga, LV-1006, Latvia - hgs@osi.lv