Open Access
Subscription Access
SYNTHESIS AND PHOTOPHYSICAL INVESTIGATION OF AIEGEN DYES BEARING QUINOLINE AND BODIPY SCAFFOLDS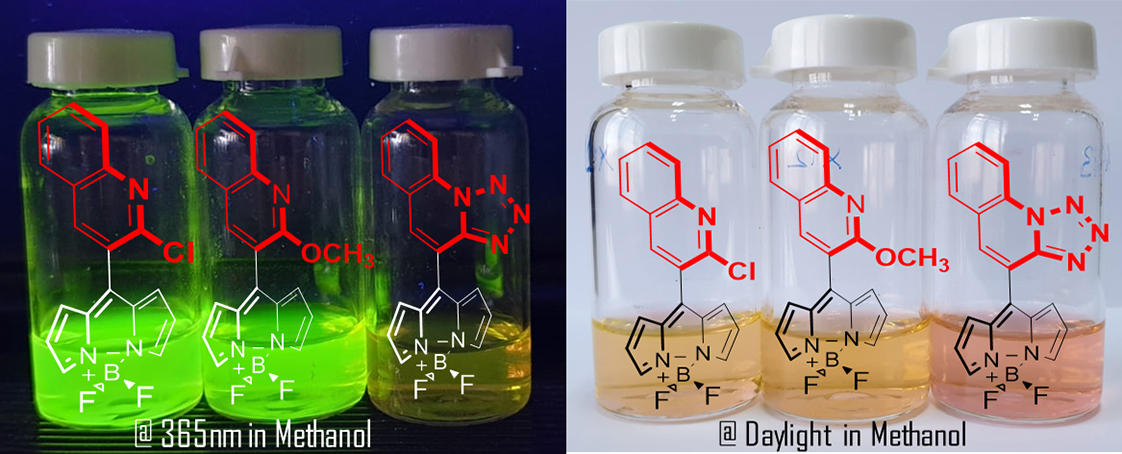 Abstract
Quinoline-based BODIPY AIEgen dyes were synthesized and the structures were elucidated by 1H, 13C, 19F NMR, FT-IR spectroscopy and mass spectrometry methods. Their photophysical properties were investigated. The dyes showed fluorescence quantum yield in the range of 0.16–1.29% in MeOH. It was found that the presence of methoxy group and tetrazole moiety led to blue and red spectral shift, respectively, of the UV absorption maxima of these dyes compared to their chloroquinoline analog. Stokes shifts of the dyes were in the range of 637–955 cm–1. Aggregation-induced emission behavior of the dyes was investigated in EtOH–H2O mixture so that the dyes
exhibited 1.6- to 2.3-fold fluorescence enhancement.
Keywords
BODIPY; quinoline; aggregation-induced emission; fluorescence quantum yield.
Full Text:
PDF
Supplementary File(s):
supplementary info (1MB)
Latvian Institute of Organic Synthesis - Aizkraukles iela, 21, Riga, LV-1006, Latvia - hgs@osi.lv