Open Access
Subscription Access
A NOVEL METHOD FOR THE SYNTHESIS OF PYRIDO[1,2-b][2]BENZAZEPINES ON THE BASIS OF 2-(BROMOMETHYL)BENZOPHENONES AND 2-(BROMOMETHYL)BENZALDEHYDE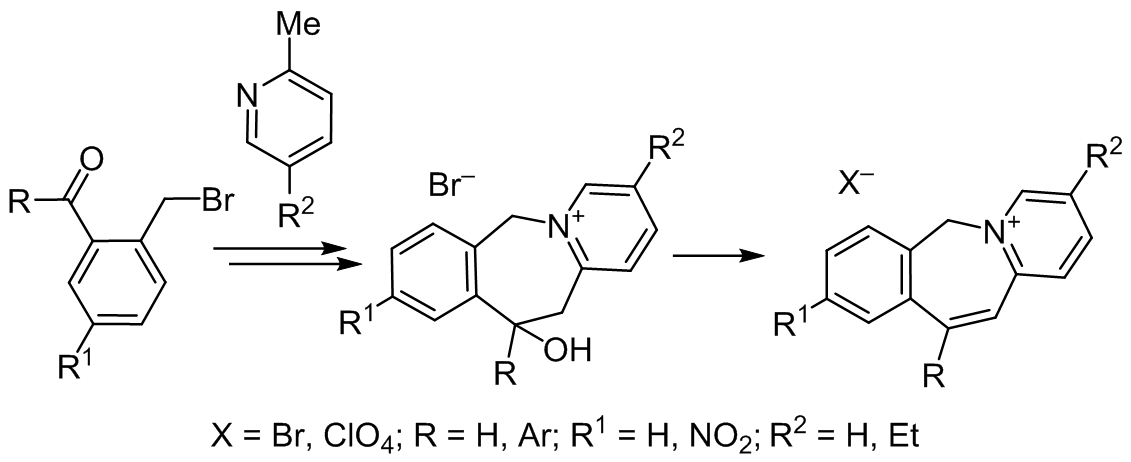 Abstract
A novel method for the synthesis of pyrido[1,2-b][2]benzazepine derivatives is based on the reaction of 2-(bromomethyl)benzophenones and 2-(bromomethyl)benzaldehyde with 2-methylpyridines. The route of synthesis of 6H-pyrido[1,2-b][2]benzazepinium salts includes several steps with the possibility of isolating intermediate 1-benzyl-2-methylpyridinium and 11-aryl-11-hydroxy-11,12-dihydro-6H-pyrido[1,2-b][2]benzazepinium bromides. The efficiency of dehydration of intermediate carbinols increases with the use of protic solvents, an increase in heating time, and in the presence of electron-withdrawing substituents in the benzazepine moiety. The structure
of the reaction products was proved by mass spectrometry, IR and one- and two-dimensional correlation NMR spectroscopy.
Keywords
2-(bromomethyl)benzaldehyde; 2-(bromomethyl)benzophenone; 2-methylpyridine, pyrido[1,2-b][2]benzazepine; vinylogy.
Full Text:
PDF (Russian)

Supplementary File(s):
supplementary info (20MB)
Latvian Institute of Organic Synthesis - Aizkraukles iela, 21, Riga, LV-1006, Latvia - hgs@osi.lv