Open Access
Subscription Access
DESIGN, SYNTHESIS, AND STRUCTURE OF ALKYL 1H-PYRAZOLECARBOXYLATES FROM A RASPBERRY KETONE METHYL ETHER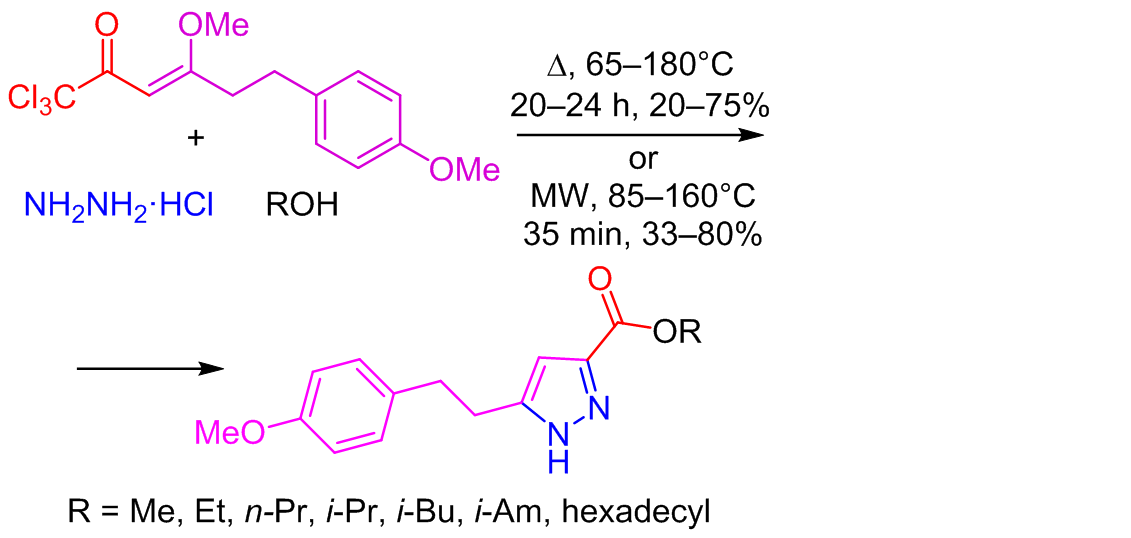 Abstract
This paper reports a one-pot synthesis of 5-[2-(4-methoxyphenyl)ethyl]-1H-pyrazole-3-carboxylates via cyclocondensation of 1,1,1-trichloro-
4-methoxy-6-(4-methoxyphenyl)hex-3-en-2-one with hydrazine hydrochloride in ROH (R = Me, Et, n-Pr, i-Pr, i-Bu, i-Am, hexadecyl) under conventional and microwave heating. Yields are comparable in both methods, but under MW heating the reaction proceeds faster. The antioxidant activity of the compounds was measured using DPPH radical scavenging assay. It was observed, that the increase of the alcohol chain length decreases the antioxidant potential of the raspberry ketone derived molecular system.
Keywords
4-alkoxy-1,1,1-trichloroalk-3-en-2-ones; 1H-pyrazolecarboxylates; raspberry ketone; antioxidants; microwave irradiation.
Full Text:
PDF
Supplementary File(s):
supplementary info (2MB)
Latvian Institute of Organic Synthesis - Aizkraukles iela, 21, Riga, LV-1006, Latvia - hgs@osi.lv