Open Access
Subscription Access
SYNTHESIS OF 5-ARYLMETHYLIDENE-3-(ARYLMETHYLIDENEAMINO)THIAZOLIDINE-2,4-DIONES VIA TRIAZINE RING CLEAVAGE OF TETRAHYDROIMIDAZOTHIAZOLOTRIAZINEDIONES AND THEIR REACTIONS WITH AZOMETHINE YLIDES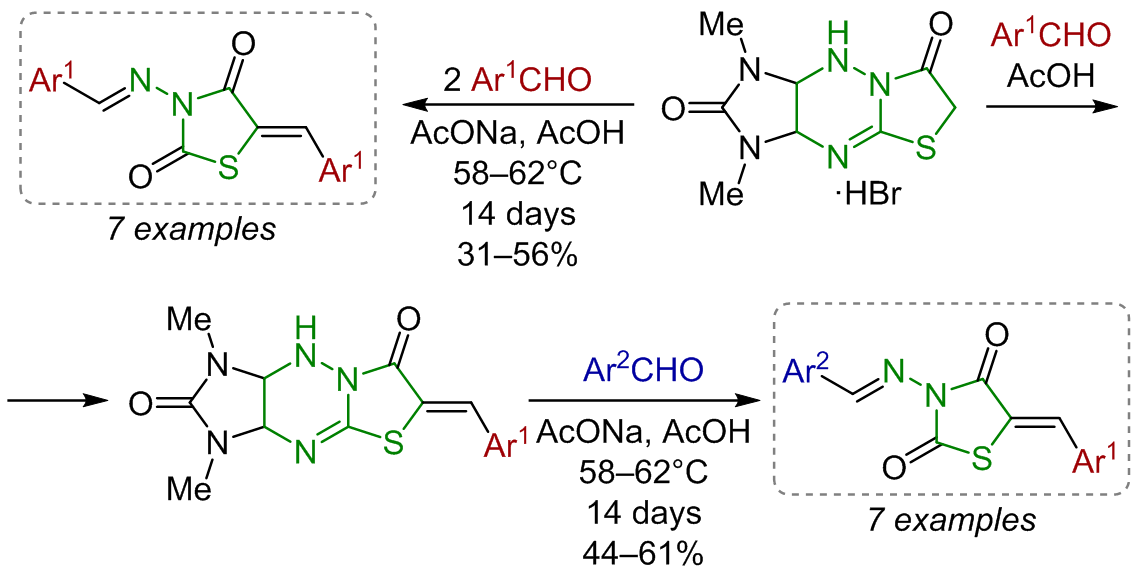 Abstract
Cleavage of 1,3-dimethyl-3,3a,9,9a-tetrahydroimidazo[4,5-e]thiazolo[3,2-b][1,2,4]triazine-2,7(1H,6H)-diones upon treatment with aromatic aldehydes has been shown to afford (Z)-5-arylmethylidene-3-((E)-arylmethylideneamino)thiazolidine-2,4-diones bearing two identical or
different arylmethylidene fragments at the exocyclic nitrogen atom and at position 5 of thiazolidine cycle. 1,3-Dipolar cycloaddition reaction of thiazolidine-2,4-dione derivatives with azomethine ylide generated from isatin and sarcosine gave diastereomerically pure dispiro[indole-3,2'-pyrrolidine-3',5''-thiazolidine]-2,2'',4''-triones in good yields. Dispiro compound with two 4-methoxyphenyl fragments exhibited slight antiproliferative activity toward CCRF-CEM (leukemia) and CAKI-1 (renal cancer) cell lines.
Keywords
aldehydes; spiro compounds; spirooxindoles; thiazolidine-2,4-diones; cleavage; cycloaddition.
Full Text:
PDF
Supplementary File(s):
supplementary info (4MB)
Latvian Institute of Organic Synthesis - Aizkraukles iela, 21, Riga, LV-1006, Latvia - hgs@osi.lv