Open Access
Subscription Access
1,3-DIPOLAR CYCLOADDITION OF CYANOPYRIDINES TO HETEROCYCLIC N-IMINES: EXPERIMENTAL AND THEORETICAL STUDY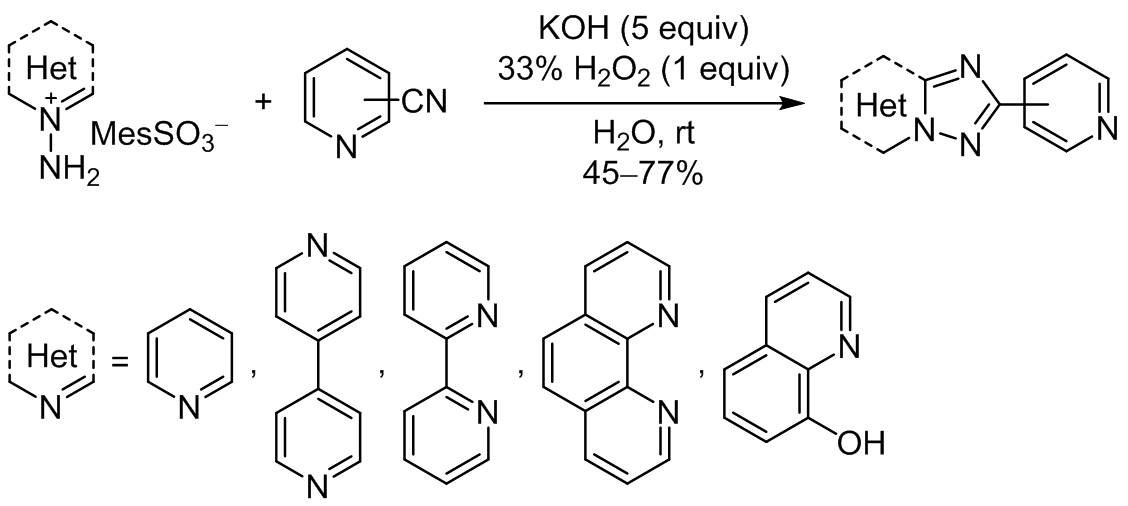 Abstract
Series of 2-pyridyl[1,2,4]triazolo[1,5-a]azines have been synthesized by cycloaddition of cyanopyridines with N-aminoazinium mesitylenesulfonates
under basic conditions (KOH/H2O). An improved protocol for pyridyl-substituted [1,2,4]triazolo[1,5-a]pyridines synthesis based on addition of H2O2 as internal oxidant has been suggested. In the case of quinolinium and isoquinolinium salts, only dimerization of the corresponding N-imines has been observed, while pyrazinium-N-imine has not shown any reactivity toward cycloaddition. DFT studies have shown that the cycloaddition proceeds through concerted mechanism.
Keywords
N-imines; [1,2,4]triazolo[1,5-a]azines; DFT; 1,3-dipolar cycloaddition.
Full Text:
PDF
Supplementary File(s):
Supplementary information (4MB)
Latvian Institute of Organic Synthesis - Aizkraukles iela, 21, Riga, LV-1006, Latvia - hgs@osi.lv