Open Access
Subscription Access
REACTION OF ENAMINO PYRROLIDIDE AND PIPERIDIDE OF 2,2-DIMETHYL-1,2,3,4-TETRAHYDROBENZ[f]ISOQUINOLINE SERIES WITH NINHYDRIN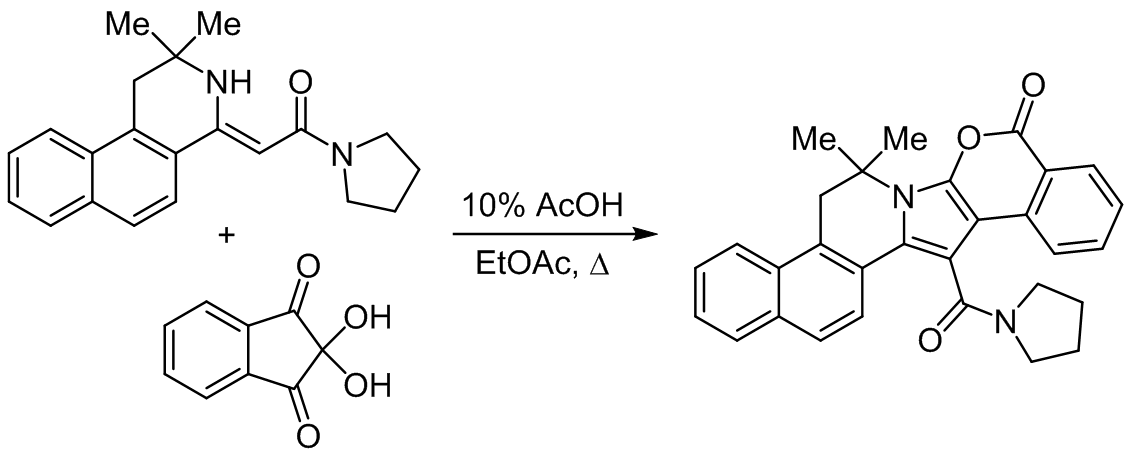 Abstract
Interaction of (4Z)-2,2-dimethyl-4-(2-oxo-2-pyrrolidin-1-ylethylidene)-1,2,3,4-tetrahydrobenz[f]isoquinoline with ninhydrin leads to annulation of an indeno[1,2-b]pyrrole ring. An analogous product is formed by replacing of the pyrrolidine ring with the piperidine ring. Further heating of the obtained glycol in the presence of AcOH leads to rearrangement with the formation of benz[f]isochromeno[4',3':4,5]pyrrolo[2,1-a]isoquinoline hexacyclic system.
Authors: Alexander G. Mikhailovskii*, Denis V. Korchagin, Alexey S. Yusov, Oksana V. Gashkova
Keywords
(Z)-2-(2,2-диметил-2,3-дигидробензо[f]изохинолин-4(1Н)-илиден)-1-(пирролидин-1-ил)этанон; нингидрин, аннелирование цикла индено[1,2-b]пиррола; кипячение в присутствивии уксусной кислоты; гексациклическая система изохромено[4,3-b]нафто[8,7-a]индолизина.
Full Text:
PDF (Russian)

Supplementary File(s):
None
Latvian Institute of Organic Synthesis - Aizkraukles iela, 21, Riga, LV-1006, Latvia - hgs@osi.lv